Music Mountain Water
Music Mountain bottles several different types of water. Our Calcium rich,  high pH Arkansas Spring Water is our flagship. Many of our customers believe it is one of the best waters available on the market.
Learn More About Our Water
About Music Mountain
 We have multiple distribution centers that provide water delivery service in Louisiana, East Texas, Southern Arkansas and Western Mississippi.
Our Bundle Plans for homes and small offices include a water cooler and cases of ½ L bottles for one set price per month. We offer private label & custom labeled water for a wide range of individuals, businesses & Retailers.
Affordable
Bundle Plans
Our bundles are the most economical and ECO-Friendly. Our plans include cooler and bottles plus cases of single-serve Arkansas Spring water.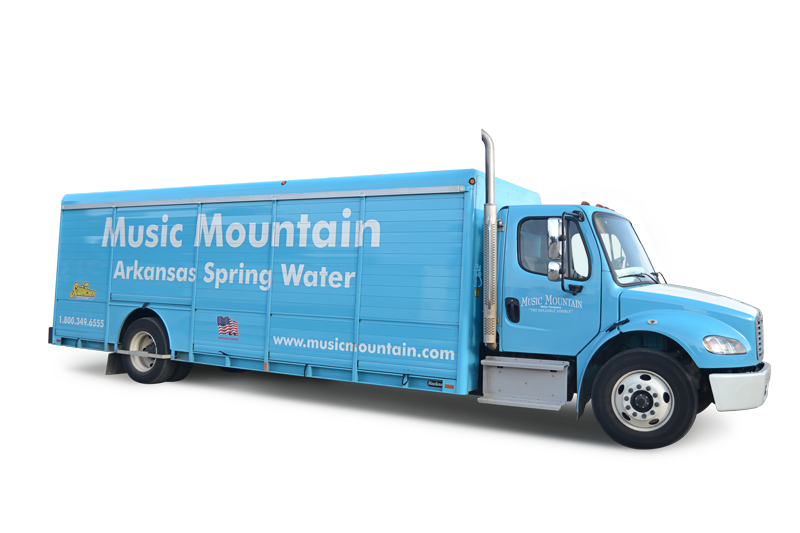 Home and Office Delivery
We deliver our water coolers, 3 or 5-gallon bottles, and cases of single-serve cups promptly and straight to your door. We charge by product delivered.
Industrial/Bulk Delivery
We also provide a drop delivery service for large commercial or industrial sites. These deliveries include coolers, 5-gallon returnable, and more.
Custom/Private Labels
Want a custom label for your water? Make a statement with custom-labeled bottled water for your event. We create labels for all kinds of industries!
Our Water
All of our waters meet or exceed all FDA, EPA, and other governmental standards and regulations. We are highly regulated and inspected annually by NSF, FDA, and numerous other inspection organizations. As they are bottled in our state of the art plant, all of our products are treated through.
OUR PRODUCTS
Music Mountain Water delivers a premium product at an affordable price. Our Arkansas Spring water comes from a natural spring in the Ouachita National Forest that is naturally high in calcium and alkalinity. Our water is a healthy alternative to sodas, juices, and other sugary beverages. You can tell a difference in its special taste! 
Our Services
We offer multiple services to our customers including bottled options with different packaging arrangements, bundle plans for small offices to make getting your water convenient and easy or coolers/water dispensers to make sure you always hydrated at your home or office.
Friend To Friend Program
If you refer a friend who signs up as a new bottled water Home or Office Delivery customer, you will receive up to a $50 gift card from one of our partner businesses! So water you waiting for?
Let Us Know What You Think
Have any questions about our products or services? Want more info about how we obtain and process our water? Feel free to reach out to us with any questions!
Follow us on Social Media!
Error validating access token: The session has been invalidated because the user changed their password or Facebook has changed the session for security reasons.